The beautiful transmuting appearance of aluminum with processed surfaces
Bright aluminum alloy sheet
Special features
High-brightness - Electropolishing produces a very high level of brightness.
Excellent workability - Perfectly suited for deep drawing, stretch forming, and much more.
Excellent corrosion resistance - Aluminum alloys that are highly corrosion-resistant.
Wide variety of types - Alloys rich in material properties and level of surface finish.
Uses
Moldings, decorative components, reflective panelsDeep drawing and bulging are also possible.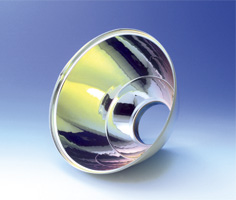 Mirror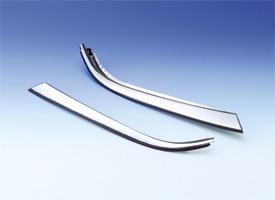 Trim moldings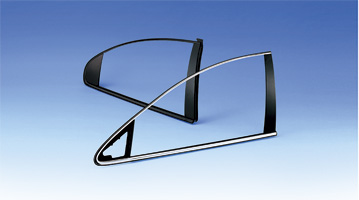 Window moldings
Types and properties
Alloy designation
Temper
Mechanical properties
Surface finish level
UACJ
AA
Tensile strength
(N/mm2)
Elongation
(%)
A85
1085
H26
120
15
LF. HB
A370
-
O
85
40
BF. MF
H24
120
23
257S
-
O
110
30
HB. BF. MF
H24
150
15
F57S
5657
H26
170
12
LF. HB. BF
B152S
5252
H24
220
10
BF
High-gloss aluminum alloy sheet
Special features
Excellent corrosion resistance
A unique, beautiful appearance is achieved through alumite processing
Surface finish level and reflectivity
Symbols for
surface finish level
Surface
roughness Ra
(μm)
Material (Regular reflectance)
(%)
Material (Diffused reflectance)
(%)
0°
90°
0°
90°
XL
0.01 - 0.02
85 (84 - 86)
83 (82 - 84)
-
-
SL
0.01 - 0.02
85 (84 - 86)
83 (82 - 84)
1.0 - 2.5
6 - 15
LF
0.02 - 0.03
79 (75 - 82)
74 (70 - 76)
1.3 - 3.0
8 - 18
SB
0.02 - 0.03
78 (75 - 81)
73 (68 - 76)
1.5 - 3.0
8 - 20
HB
0.03 - 0.05
74 (69 - 76)
67 (64 - 71)
2.0 - 2.4
18 - 30