"Aluminum is not easily replaceable by other materials"
UACJ supplies aluminum bumper components, battery housings, and a wide range of other aluminum automobile parts.
UACJ Corporation is a Japanese rolled aluminum manufacturer that promotes the development of aluminum materials while looking ahead to five, ten and twenty years from now.
Although it is an unfamiliar company in the field of automobile parts in Europe and the United States, UACJ Corporation is a high-quality rolled aluminum manufacturer with the world's third largest production capacity, and reliable technological development ability based on a long history of research and development.
We regards social responsibility and sustainability as most important aspects, and strives to reduce the environmental load of aluminum in all manufacturing steps.
We are eager to work with customers to develop optimal aluminum automobile parts.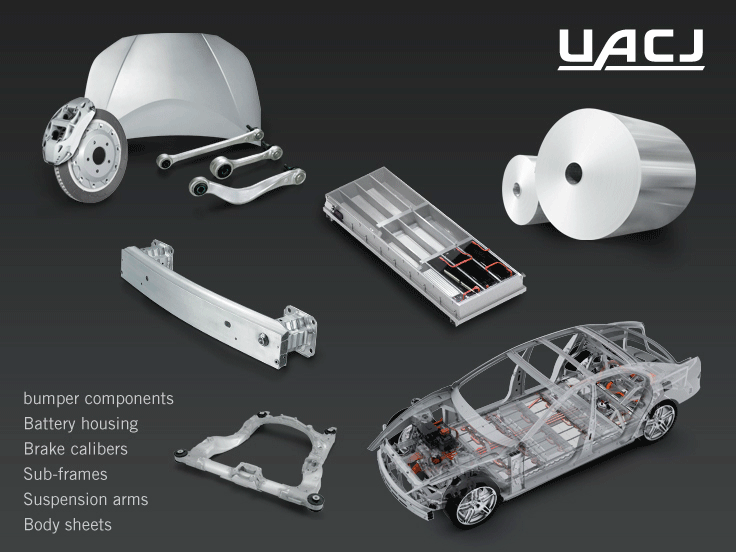 We established advanced Mobility Technology Center
UACJ has established our "Mobility Technology Center (MTC)" in Aichi Prefecture in Japan in October 2020, which is a department specializing in the development of automobile parts. MTC will promote the development of innovative aluminum automobile parts, utilizing our extensive knowledge in material development and production technology.
UACJ manufactures the body and chassis components of the Mazda MX5
A typical example of the lightweight design of the MX-5 is the 7000 series aluminum alloy front bumper. The bumper is an important strength member for shock absorption in the crushable zone, and it's also the member farthest from the center of gravity of the vehicle, so weight reduction is also important to reduce the yaw moment of inertia.
Based on these required performances, we developed materials and extrusion processes, and realized the production of thin-walled hollow shapes for bumpers using high-strength 7000 series aluminum alloy. This newly developed aluminum alloy has excellent weldability and is the most suitable alloy for lightweight and highly rigid welded structures.
The advantage of using aluminum is its light weight, and also high-recyclability. Compared to refining aluminum from ore (bauxite) to make aluminum ingots, the energy required to recycle a product into aluminum ingots is only 3%. In Japan, the public and private sectors are jointly developing more advanced recycling technology. The recycling technology is "upgrade recycling" that removes impurities and produces high-purity recycled aluminum ingots. By widely using and recycling rolled aluminum products, we can reduce the environmental burden and contribute to the realization of a sustainable mobility society.
We can reduce carbon emissions by using sustainable aluminum
We are eager to work with customers in Europe and the United States to develop optimal aluminum automobile parts. And we would like to provide aluminum automobile parts through a global production and supply system that can supply all kinds of rolled aluminum products. Please contact us at UACJ.
Contact person
Akio Niikura, Ph.D
Vice-Director of Mobility Technology Center
UACJ Corporation
E-mail: niikura-akio [at] uacj.co.jp
Company Overview UACJ Corporation
Corporate Name
UACJ Corporation
Headquarters
Tokyo Sankei Bldg., 1-7-2 Otemachi, Chiyoda-ku,
Tokyo, 100-004 Japan
R&D Division, MTC
Chitose 3-1-12, Minato-ku, Nagoya-shi, Aichi 455-8670, Japan
Representative
Director & President
Miyuki Ishihara
Principal Business
Manufacture and sales of rolling products, casting products, forged products and precision-machined products of nonferrous metals, including aluminum and alloys thereof.
Capital
52,277 million yen ( approx 374 million U.S. dollars)
Number of Employees
9,571 (consolidated) As of March 31, 2022
Fiscal Year End
March 31
Afliated companies
International operations 37companies

UACJ Automotive Whitehall Industries, Inc.
5175 W. Sixth Street, Ludington, MI, USA
UACJ ELVAL HEAT EXCHANGER MATERIALS GmbH
Prinzenallee 5, 40549 Düsseldorf, Germany
UACJ Extrusion Czech s.r.o.
Prumyslová 1010, 294 71 Benátky nad Jizerou, Czech Republic