The 67th IAA Cars achieves around 810,000 visitors 228 world premieres, 45 million contacts worldwide via social media.
IAA Cars showcases the whole range of innovations for mobility, the main themes at this year's IAA have been digitization and electric mobility.IAA Cars has been very well attended by exhibitors, attracting around 1,000 from 39 countries. In all, 41 percent of the exhibitors came from outside Germany (40 percent in 2015). The show offered nearly 200,000 square meters of exhibition space. The IAA hosted 363 innovations, including 228 world premieres and both figures are new records.
At the New Mobility World (NMW), It brought together innovators from all sectors, who develop new solutions, technologies or products for the mobility of tomorrow and beyond.
NMW represents the broad diversity of future mobility, Connected Car, Autimated Driving, E-Mobility, Urban Mobility and Mobility Services.The largest IT and technology firms were present including Facebook, Google, SAP and Qualcomm.
MERCEDES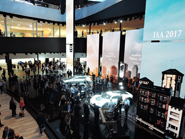 Mercedes-Benz Cars at the Frankfurt International Motor Show (IAA)
MERCEDES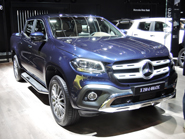 Concept X-CLASS
Mercedes-Benz is the first premium manufacturer to take account of changing customer requirements in the global Midsize pickup segment
MERCEDES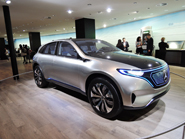 SUV-Coupe EQC
The full-electric SUV Coupe Mercedes EQC is scheduled to hit the market in 2019 - with a range of 500 kilometers. Production site is Bremen.
MERCEDES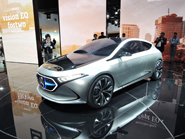 Concept EQA
The Concept EQA, the first fully-electric EQ concept vehicle by Mercedes-Benz in the compact segment, stands for a maximum of fascination in a compact vehicle.
BMW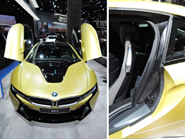 BMW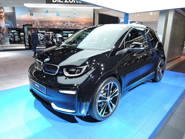 i3
BMW i vision dynamics electric concept car debuts at IAA 2017
BMW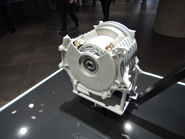 BMW electric engine
The BMW eDrive electrified drive train concept is an innovative deveropment by the BMW Group.The electric motor of the BMW i3 is a part of this concept, weight only 48.1Kg and, a length of 27.2 cm and a diameter of 28.5cm, is aiso extremely compact.
BMW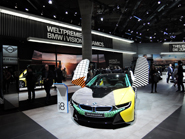 i8 Memphis Style Edition
The BMW i8 Memphis Style Edition, their own Art Car becomes a reality for a few customers.
Audi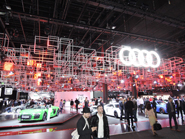 Audi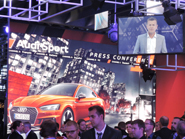 Audi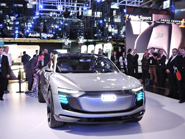 Audi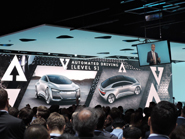 Automated Driving Level5
Autonomously on course for the future: concept car drives at level 5
Audi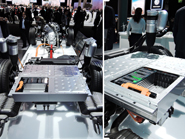 A8 Plug-in hybrid
Powerful new Audi S8 models will use Porsche power, with a plug-in hybrid model based on Panamera PHEV.
Audi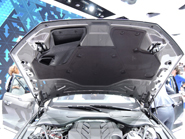 Audi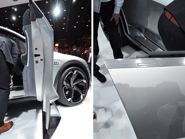 Audi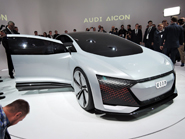 Audi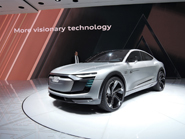 Audi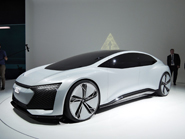 Audi Aicon
Audi brings the Audi Aicon to a study for autonomous driving at the IAA 2017. The computer-controlled luxury liner is based on the Audi A8, comes without steering wheel and pedals
VOLKSWAGEN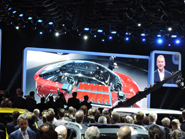 VW showed the second version of its electric study: Den I.D. Crozz II, developed on the E-SUV Coupe.
VOLKSWAGEN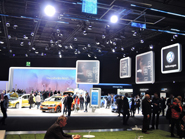 VOLKSWAGEN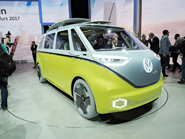 I.D. Buzz
VW I.D. Buzz features full electric drivetrains for zero emission propulsion, two electric motors, one at the front axle and one at the rear, each generating 201 hp.
VOLKSWAGEN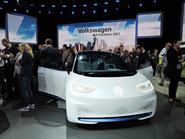 I.D. Crozz II
VW gives the range with 500 kilometers (NEDC). On board is a 83 kWh lithium-ion battery, which can be charged up to 80 per cent in about 30 minutes by 150 kW (DC) charging capacity.
VOLKSWAGEN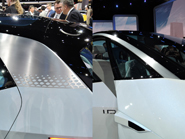 Hairline aluminum plate is used for decoration of A pillar and C pillar.
FORD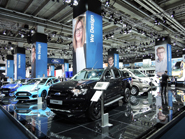 Porsche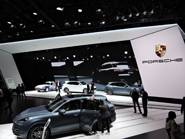 Porsche
Cayenne
Porsche is still holding onto the diesel. Even if there is no technical reason for this, what is presented as a novelty in Frankfurt should be equipped with clean diesel engines for the latest exhaust gas standard during the next six months. For VW and all other brands.
Citroen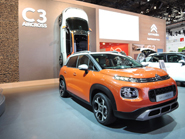 Citroen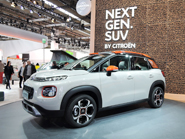 JAGUAR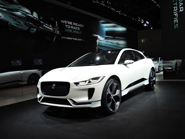 I-PACE eTROPHY
The Jaguar I-PACE eTROPHY will be the support series for the FIA Formula E championship, taking place on the same weekends at the same city circuits, starting in late 2018.
JAGUAR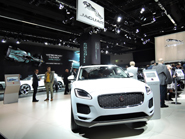 E-PACE
The Jaguar E-Pace is to mix the class of the compact SUV to the IAA 2017 properly. The E-Pace takes over some elements of the big brother F-Pace.
Jaguar Land Rover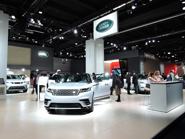 Land Rover Discovery SVX
A machine fettled by JLR's Special Vehicle Operations (or SVO, letters once applied to a Ford Mustang) to have greater off-road capability.
Jaguar Land Rover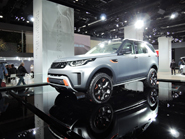 RENAULT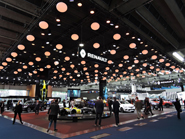 RENAULT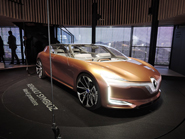 SYMBIOZ
Renault presents the Concept Car Symbioz at the IAA. The car is intended to drive purely electrically and largely autonomously, convert its interior into a small lounge and integrate into the living room at home.
RENAULT
MINI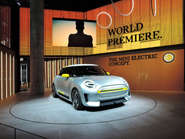 MINI is using the IAA Cars 2017 show in Frankfurt am Main to showcase its take on future personal mobility in the city in the form of the MINI Electric Concept.
BUGATTI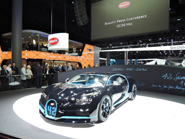 TOYOTA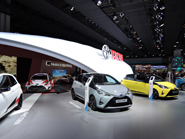 TOYOTA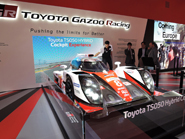 LEXUS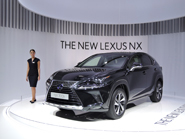 HONDA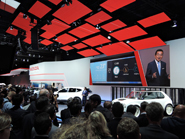 HONDA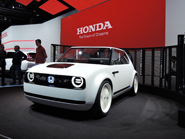 HONDA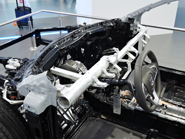 HONDA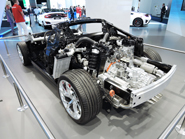 HONDA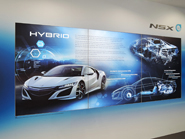 Mazda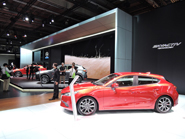 SUBARU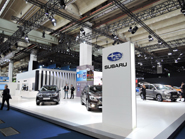 SUBARU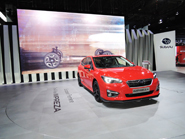 SUZUKI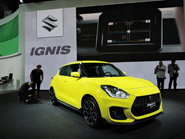 SUZUKI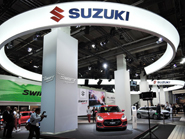 SUZUKI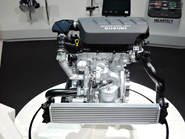 ATZ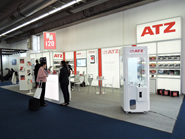 BORGWARD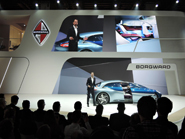 BORGWARD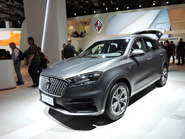 BOSCH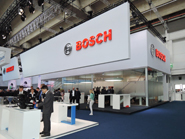 BOSCH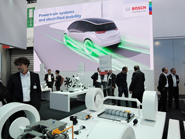 brembo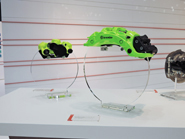 brembo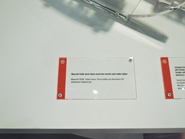 brembo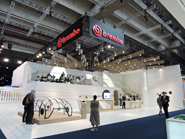 Continental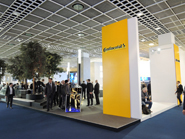 DELPHI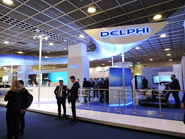 AEROMOBILE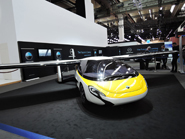 Flying Car
The Aeromobile Flying Car is driven on the road electrically and goes into the air if it is to go faster - with up to 360 km / h or 750 km range.
elringklinger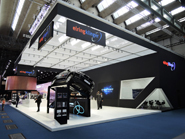 elringklinger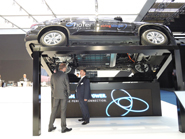 elringklinger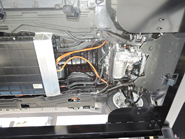 Electric Drive Unit
This includes an electric drive unit (E-axis) of the two companies, which combines power electronics, transmission and electric motor.
FEDERAL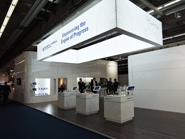 FEDERAL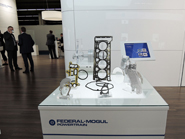 gemmotors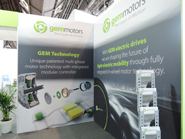 GEM in-wheel electricmotor
GEM in-wheel electric drive is a simple, efficient and smart solution for e-vehicles with both motor controller and electric motor integrated into the wheel.
handtmann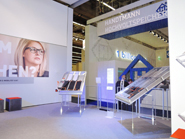 Aluminum battery case
The battery case in aluminum offers maximum stability for the electric engine and optimal protection against environmental influences such as stone impact.
handtmann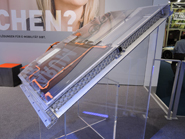 Hirschvogel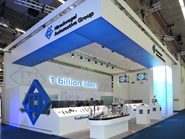 Hirschvogel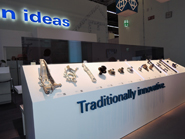 Honeywell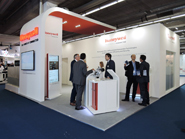 Honeywell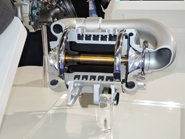 IFA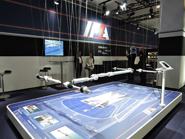 IFA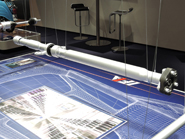 Drive shafts and joints
The IFA group is a supplier of drive shafts and joints, within the global Top 3 among drive shaft makers. IFA delivers to all car makers in Europe and North America.
KIRCHHOFF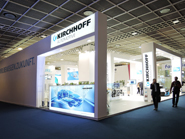 KIRCHHOFF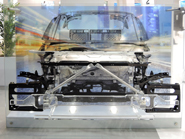 Hybrid front-end
Hybrid front-end in profile and shell design. Forming of steel, high strength steel and aluminum profiles, milling, spot-,MAG- and projection welding; e-coating; assembly of blind rivet nuts.
KIRCHHOFF

BIW Component
Aluminum forming, SPR(self-piercing riveting), Stud/nut riveting
KIRCHHOFF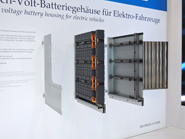 KIRCHHOFF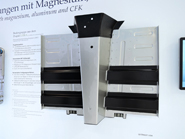 Floor panel
Floor panel developed during the project LEICA(Lightweight construction in body components)
KIRCHHOFF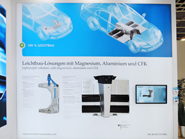 Lightweight constructions
Aluminum front axle support in shell design
MAHLE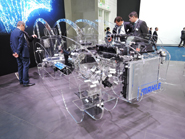 MAHLE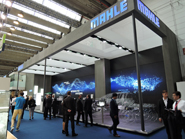 MAHLE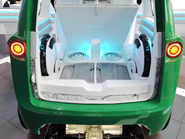 MAHLE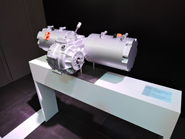 MEET
MEET (MAHLE Efficient Electric Transport): Integration of electoronic hardware, power electornics, drive unit and cooling into one module.
Micro Mobility Systems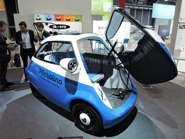 Microlino
The Microlino: Electric Crive has two seats, a kerb weight of 450kg,with just 2.4 meters length, a range of 120 or 215 kilometers (bigger battery) and a maximum speed of 90 km/h, which is more than enough for an urban environment.
Rochling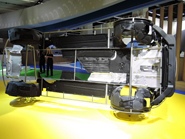 Rochling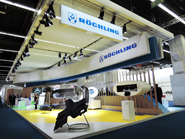 SAINTJEAN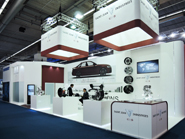 SCHAEFFLER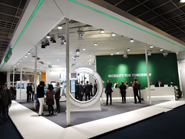 SCHAEFFLER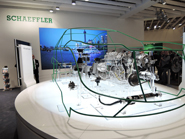 SCHAEFFLER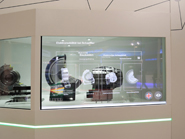 Radnabenmotor E-Wheel-Drive
The E-Wheel-Drive wheel hub motor from Schaeffler is revolutionary and changes the concept of a car. Due to the integrated electronics in the drive, the majority of a conventional drive train, such as a transmission or drive shafts, can be dispensed with. This not only saves space but also weight.
SCHAEFFLER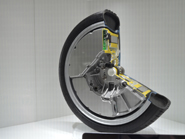 Radnabenmotor E-Wheel-Drive
Only the highly integrated wheel hub drive makes it possible to think the city car new and completely free. It will in future be a key to new vehicle concepts and automotive platforms.
Thunder Power EV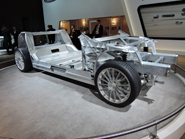 Thunder Power EV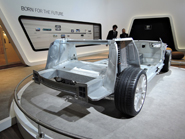 Thunder Power EV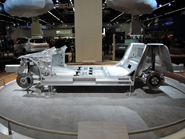 Spaceframe platform
The Space Frame structure combines lightweight shaped aluminum parts with hot forged high-straight steel allowing a total weight reduction of more than 40% compared to the conventional standard.
Valeo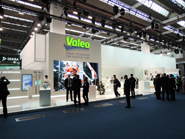 Valeo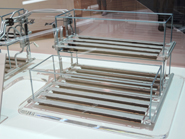 Battery refrigerant cooler
combining the fast cooling capacity of the Conditioning system and close contact between the cooler tubes and battery pack.
Webasto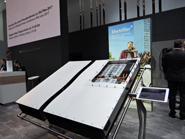 electrifier
Webasto showed electrifying charging solutions and battery systems for the future electromobility market.
Webasto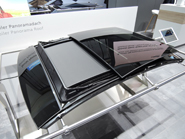 Roof Systems
Webasto develops and produces sunroofs, panorama roofs and convertible roofs as well as thermo systems.
Webasto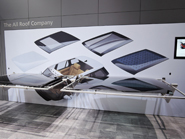 Webasto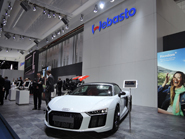 ZF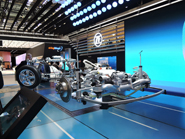 ZF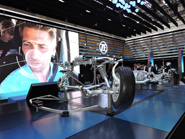 ZF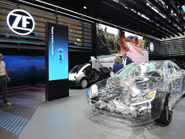 AISIN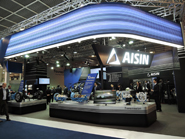 AKEBONO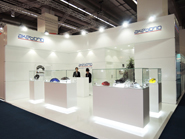 AKEBONO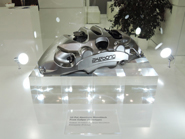 Brake Caliper
10 Pot Aluminum Monoblock Brake Caliper
ASPARK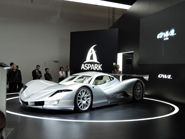 OWL
Aiming to be fastest EV in the world. Built from carbonfibre and powered by an all-electric drivetrain producing the equivalent of 1000bhp, the Owl will good for 0-62mph in under 2.0sec.
ASPARK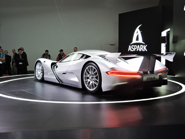 DENSO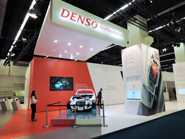 DENSO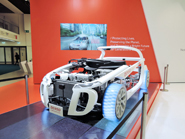 DENSO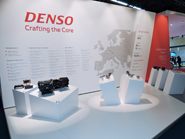 JTEKT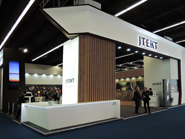 JTEKT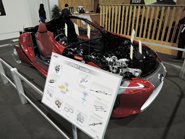 Nidec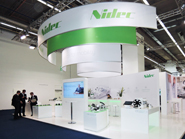 SHOWA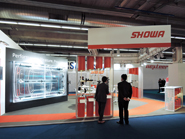 TAKATA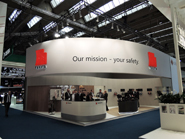 USUI