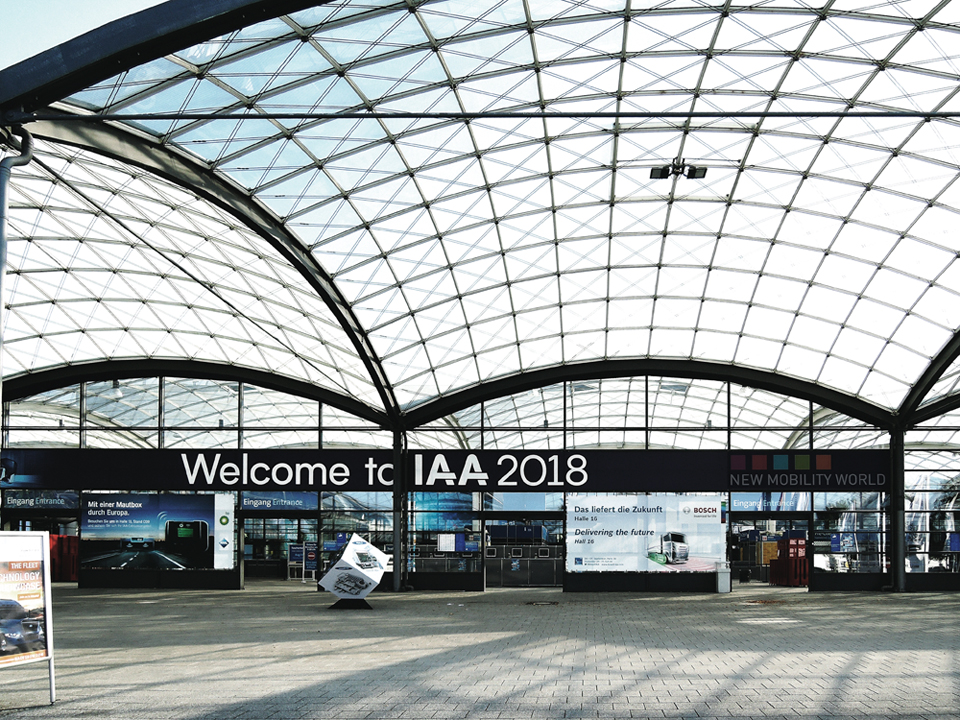 IAA COMMERCIAL VEHICLES 2018
Hannover Motor Show
On-site report

Organized by the German Automobile Industry Association, the International Automobile Association Cars held in Frankfurt and the IAA Commercial Vehicles held in Hannover (VDA) together form the world's largest motor show. The recent trends towards electromobility and self-driving systems for motor coaches, trucks and commercial vehicles are steadily progressing. One outstanding feature of the 2018 show was the wide selection of solutions on display for 'last mile transportation', which is the biggest bottleneck for logistics and distribution.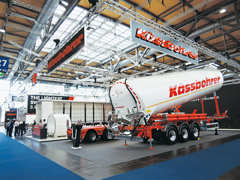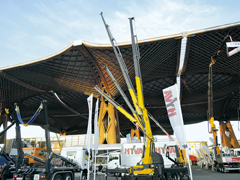 IAA CV 2018 was held under the theme of 'Driving tomorrow', which included electromobility, self-driving, digitization, and urban logistics. The show attracted a total of 2,174 exhibitors from 48 countries, and hosted 435 world premieres. The number of visitors exceeded 250,000. Although there are still many issues regarding electromobility for heavy vehicles, in the area of commercial vehicles it's approaching the full-scale launching stage. At the booths of the major suppliers, there were many exhibits focusing on power trains, which have evolved in response to environmental regulations. They featured self-driving using an assist system and autonomous running, networking, reducing the burden on delivery service drivers, and 48V mild hybrids.
ELECTRIC POWERED COMMERCIAL VEHICLES
Truck & Buses
All-electric buses run in major European cities
Daimler, which was one of the pioneers in introducing a fully-electric bus, the 'eCitaro', is expanding its predominance in the field of e-mobility for heavy vehicles, as demonstrated by the introduction of its 'e-Actros' truck. Moreover, Mitsubishi Fuso Truck and Bus Corporation (MFTBC), a Daimler group company, announced its 'E-FUSO Vision One'. MAN, a subsidiary of automaker Volkswagen AG, showcased its 'Lion's City E' all-electric bus, which employs a new system with one centrally mounted motor to drive multiple axles.
Mercedes-Benz
eCitaro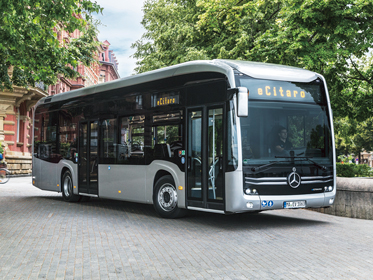 MAN
'Lion's City E' all-electric bus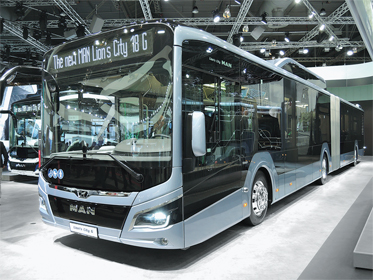 MAN
TGX
(EURO6-compliant diesel-powered vehicles)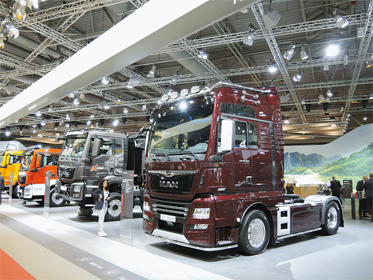 DAIMLER
Actros
(EURO6-compliant diesel-powered vehicles)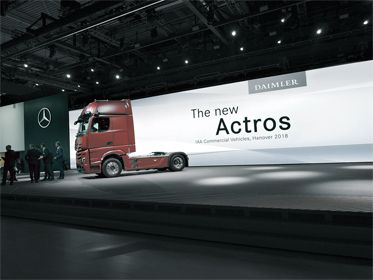 MFTBC
E-FUSO Vision One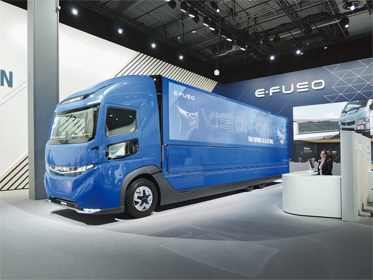 Volvo Trucks
FE Electric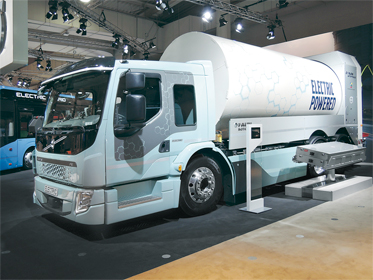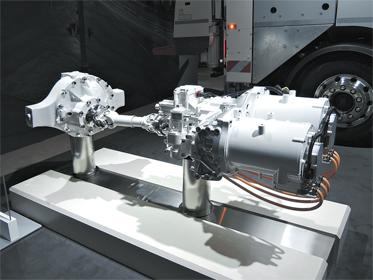 Volvo
EX02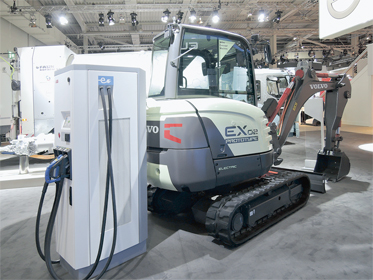 Light Commercial Vehicles

Ford
Transit Custom PHEV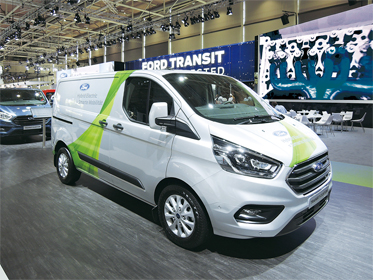 Transit Custom PHEV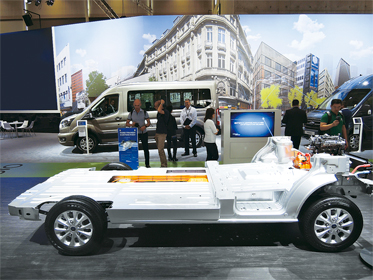 In the field of small trucks and vans, Ford was the world pioneer in introducing plug-in hybrid electric vehicles (PHEV). The Ford 'Transit Custom PHEV', equipped with a 1.0-liter EcoBoost petrol engine as a range extender, can drive 50 kilometers on full electric. In Europe, small diesel engine vehicles are enjoying an enduring popularity.
Citroen
Berlingo panel van
(Chimney Sweeper Solution)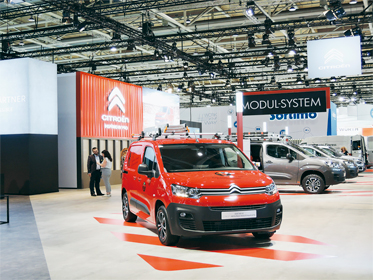 Peugeot
Rifter 4x4 Concept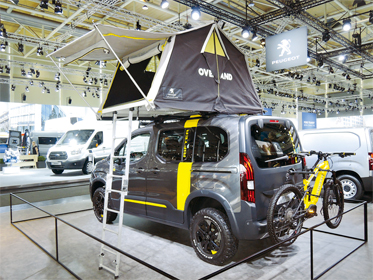 Opel
Combo Cargo LCV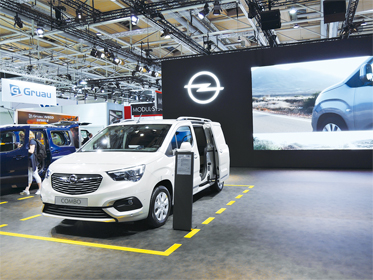 All Electric Mobility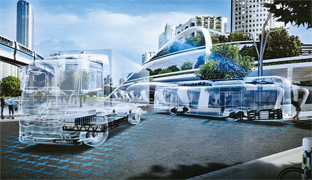 Can electric motors surpass large diesel engines?
The 'eActros' displayed at the Mercedes-Benz booth is truly a monster equipped with the total of 11 batteries inside and below the chassis with a usable total capacity of 240kWh. The drivetrain consists of two electric motors installed near the wheel hubs with a maximum output of 2 x 126kW, giving the vehicle a range of about 200 kilometers.
Mercedes-Benz All Electric System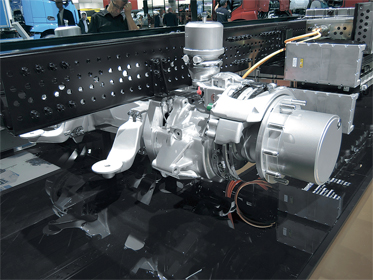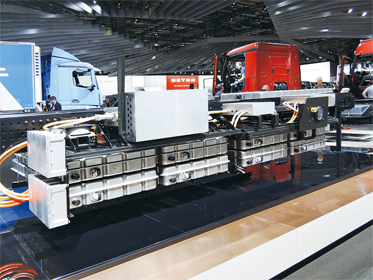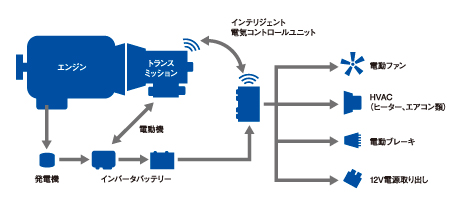 48V Mild Hybrid System
"48V Mild Hybrids" have a simple structure in which parts such as a 48V lithium ion battery, an AC/DC inverter and an ISG (Integrated Starter Generator) are added to a conventional engine system. As a result, compared with a strong hybrid, a large cost reduction is possible, and it's said that the improvement in fuel efficiency increases as the vehicle gets larger.
EATON 48V Hybrid System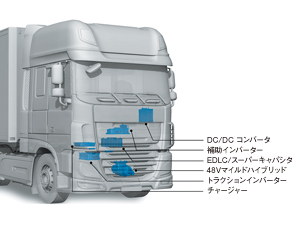 Power Takeoff Assembly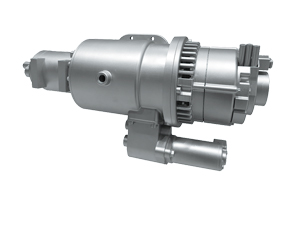 Valeo 48V Hybrid System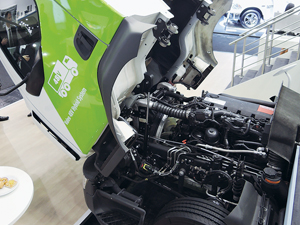 FUTURE COMMERCIAL VEHICLES
Debut of an electric concept vehicle enabling autonomous running on demand
e-Cargo Concept
Mercedes-Benz showcased its Vision URBANETIC, a new mobility concept model based on an electrically-powered autonomous driving platform, with an upper body that can be switched between passenger use and cargo use. The passenger module can be used for car-sharing purposes, accommodating up to 12 passengers, and the cargo module can carry up to 10 EPAL pallets.
Mercedes-Benz
Vision URBANETIC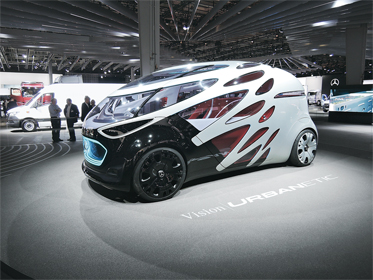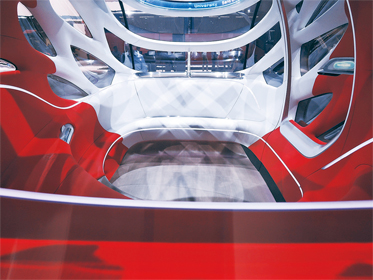 The Renault EZ-PRO represents Renault's last mile urban delivery vision. It consists of two parts: a Leader Pod which leads by driving and a Robo Pod which follows and is totally unmanned. Connecting follower Pods like a convoy can contribute to more efficient delivery.
Renault
EZ-PRO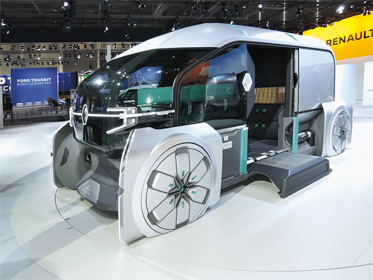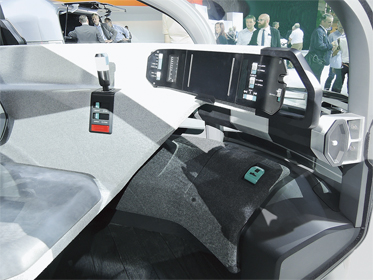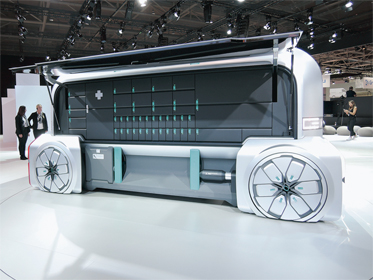 e-Cargo Microbus
The Volkswagen I. D. Buzz Cargo concept van has been introduced as a commercial version of the I.D. BUZZ electric microbus. A digitalized Cargo Van Concept is installed with Sortimo storage cases and a tablet in the back. The van is equipped with autonomous driving capability and a chasing system which indicates delivery destinations on the tablet when the back doors are opened.
I.D.BUZZ Cargo Van Concept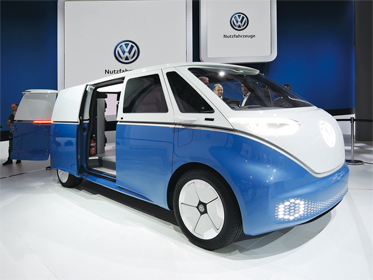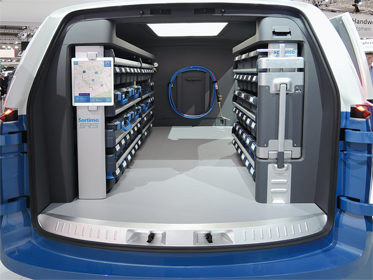 Fuel Cell e-Vehicles
Mercedes-Benz
Concept Sprinter F-CELL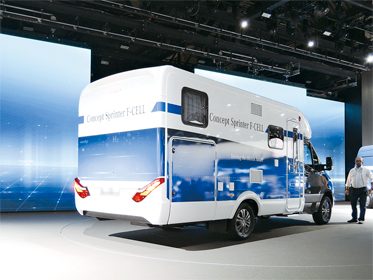 VW
Crafter Hymotion Concept Van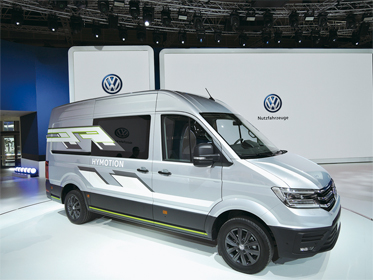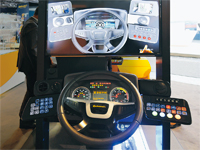 FUTURE TECHNOLOGY
Advanced technology supporting the creation of future commercial vehicles
Continental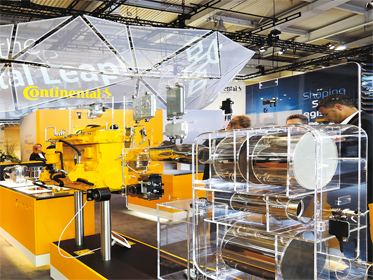 ZF
ADAS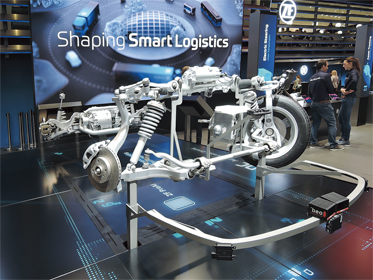 EATON
4speed EV Transmission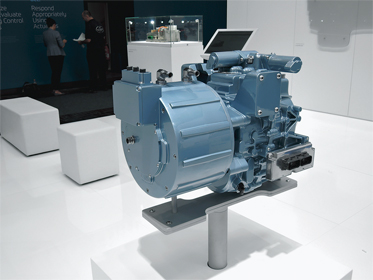 Valeo
battery Cooler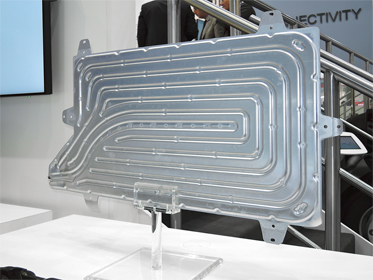 MAHLE
Thermal Management System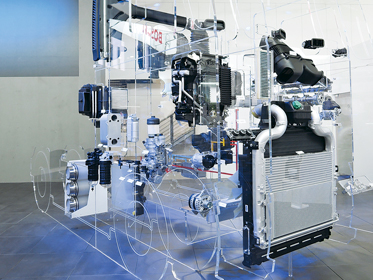 Hormann Group
Integral-chassis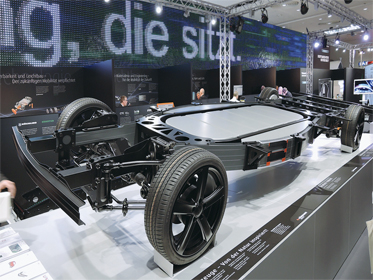 Alcoa & Metalsa
Aluminum frame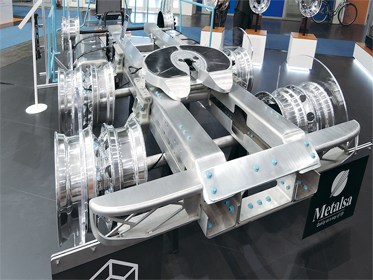 Webasto
Standard Battery System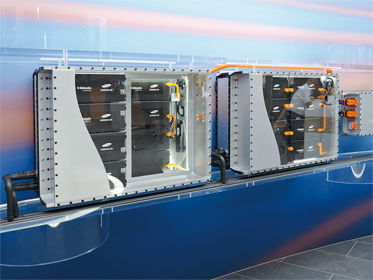 KIRCHHOFF AUTOMOTIVE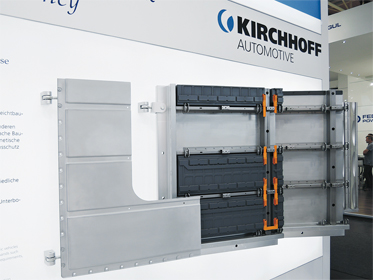 WABCO [MAXX]
ADB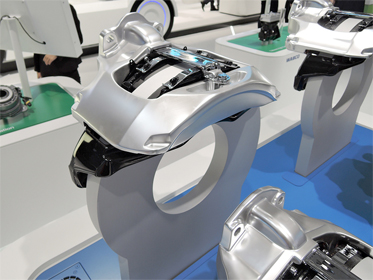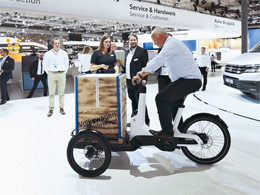 E-BIKES & CARGOS
Cargo bikes play an important role in 'last mile transportation'.
48V e-Bikes have realized a drastic evolution.
Automation and power-saving are challenging elements in 'last mile transportation', in which drivers deliver products to end users. At IAA CV2018, however, a great number of 48V cargo bikes with power-assisted functions were showcased as solutions.
VW
Cargo e-Bike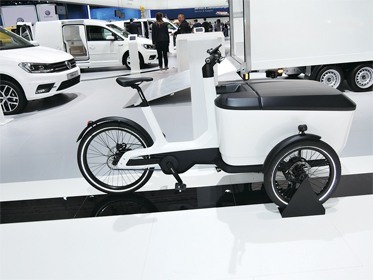 Bosch
E-cargo bike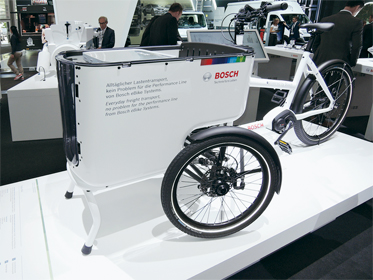 Bosch
Performance line CX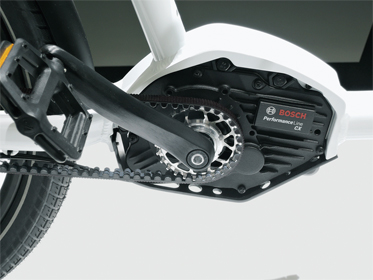 Gazelle (Pon Bike Group)
D10/D20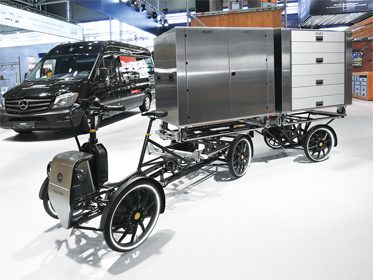 Sortimo
ProCargo CT1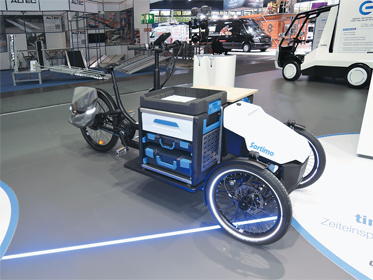 Sortimo
ProCargo CQ1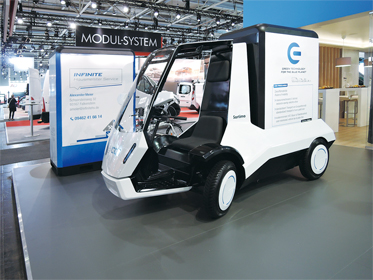 RYTLE
MovR (THE SMART MOVE)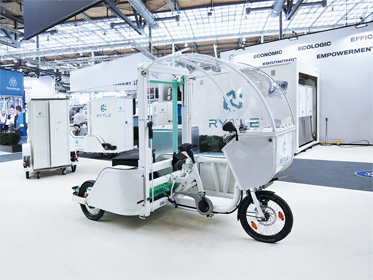 Urban Arrow
Urban Mobility